Perugia is a large, well-preserved hill city, rich in museums and churches. The large student population ensures a thriving arts scene and plenty of nightlife. However, for all its cultural modernism, little has changed architecturally for over 400 years. The Etruscans founded the city, which then fell to the Romans in 310 B.C and was given the name Perusia. During the Middle Ages the city was ransacked by feuding noble families, and in 1538 it was incorporated into the Papal States where it remained for almost three centuries. In the 15th century it was home to fresco painter Pinturicchio and his teacher Perugino. Its cultural tradition continues to this day with the University of Perugia and several other institutes of learning, including the famous Università per Stranieri (Foreigners' University), which teaches Italian language, art and culture to students from around the world.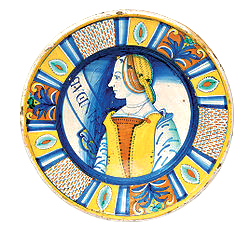 WHERE TO SHOP
Niba
Via delle Volte, 2-6
Fashion for men and women. My favourite shop in Perugia. Miu Miu, Chloe, Junya Watanabe, Celine and many other designers.
L'arte dei Vasai
Via Baglioni, 32
Umbria is known for its pottery, and in this shop you will find beautiful gifts to take home. You can even ask them to personalize something for you, like a plate or a ceramic Christmas tree ornament. They can ship their creations home, wherever home is.
Musica Musica
Via Oberdan, 51
Mom might appreciate the Italian tenor Andrea Bocelli… or maybe Jovanotti is more her style. In any case, come here and the magical Fofo will help you pick out some tunes.
Perugina
Nestlé Italia Spa – Viale San Sisto – open Monday to Friday from 9am to 1pm and from 2pm to 5:30pm
Casa del Cioccolato is an extraordinary place on the outskirts of Perugia, where you can discover all there is to know and love about the pleasures of chocolate. Perugina co-founder Luisa Spagnoli created a confection as romantic as her love for a special someone: she would wrap each chocolate inside a love note. She called them Baci, the italian word for kisses, and 100 years later Baci are still exclusively produced in Perugia.
CASHMERE VALLEY
The creation and love of beautiful things seems to be in the DNA of the Umbrians, and the region now boasts around 500 companies specializing in the noble art of cashmere-making.
Brunello Cucinelli
Piazza Alberto Dalla Chiesa 6, Solomeo
My favourite Cashmere outlet, situated in the beautiful 13th century hilltop hamlet of Solomeo, near Perugia.
Lamberto Losani
Via Case Sparse 48/g, Magione
Losani has been creating artisan-made women's cashmere for over 50 years. The family business is based in the town of Magione, on the hill overlooking Lake Trasimeno.